I snuggled up on my couch last night with my laptop in lap. My kids were doing homework, Charlie Lexow was reading, and I needed to edit a piece I've been working on that I will present in a few weeks. I had turned the television on, mostly for noise, but I tend to be particular about my noise. I searched the TV Guide, looking for an old movie that I'd seen enough times not to need to follow along but pleasant enough that I could look up occasionally and enjoy a scene. I stopped on The Green Mile.
The Green Mile is a movie released in 1999, based on a Stephen King novel, and is one of those movies you have to watch to understand. Michael Clarke Duncan (God Rest His Soul) plays John Coffey. He always says, "Like the drink but spelled different." John is on death row for raping and killing two little girls, and while I certainly feel the window for spoiler alerts closes long before 20 years, I won't tell you how it turns out. I will say, however, that John has a miraculous gift which he uses to change the prison guards who care for him, in addition to many others. When faced with what to do in the end, the guards are trying to offer John a way out.  He tells them this gift that is bringing so much beauty to others, but it is like glass in his head. He says the shards of glass cause him hurt and he's ready to be done.
As I watched the scene last night, one I've seen a hundred times before, tears started to roll down my face. I understand what it feels like to want the pain to stop. I've been there, and I've fought that demon many times before.
I saw a post on Instagram this week about depression. September 10th is World Suicide Prevention Day and as I was scrolling through all the posts encouraging us to reach out to the sad and hurting around us. I was caught by one post, in particular, that spoke an impressive amount of truth about depression. I wish I had saved it so I would know who to credit. I wish I had said it myself so I could take credit because the words are so on point. She said that when you see a commercial on television for anti-depressant medication, the general theme is about sadness. The people are sad, they hold up smiley faces to cover their frown, and they talk about an overwhelming sadness. For the general public, who might not understand depression, they think that if their friends don't act sad, they aren't suffering from depression. The truth is that most people suffering from depression do not show their sadness to the world. They may not show it to more than one or two people if any. This is why the suicides of Robin Williams and Kate Spade were so shocking to so many. They were people who appeared to have it all together; they were funny, bubbly, successful. We only learned after their deaths of the people who saw what they were hiding from the rest of the world.
Even when we know someone is battling depression, we may not know the extent of it or how it plays out in their life. The person posting on Instagram said that depression often looks like doing the next thing. You might want to insert the word "hard" to that description, but usually, the next thing isn't something most would consider hard. For me, when I am in the throes of the battle and depression is wearing me down hard, the next thing might be as simple as getting in the shower. Or after a shower, the next thing might be putting on clothes for the day. Sometimes the next thing is putting a stamp on the envelope that needs mailing. It's sitting on the counter and I have the stamp, I just can't make myself do the thing. I might go to work all day and smile at my coworkers and be entirely productive but go home and not be able to do the dishes. It's too much. I may be able to cook dinner for my kids and help them with homework but not be able to change out of my day clothes before falling into bed. It's shaming for someone who can function so well in most areas of life to feel so paralyzed in other areas.
I realize this makes zero sense to you if you've never been on the front line with this demon. You might even be thinking, "No. This is when you pull yourself up by your bootstraps and do what needs to be done." Oh, how I wish it was that simple. Depression can be suffocating and it can be paralyzing, and it's way past time for us to stop hiding from the conversation. There are people in this world with gifts and talents so big and so grand that we think they would want to show the whole world when, in actuality, they feel like they have shards of glass in their head. And while medication and therapy are both great tools, they are tools that take time. Neither one is an overnight fix or solution. Depression is a disease. No one would expect a cancer cure in a week. No one would ask a person with diabetes why they can't just feel better or smile more. When someone has suffered a significant trauma or illness and the chemicals in their brain are out of balance, depression happens. Is it curable? For some people. Can it be managed if not cured? For some people. Is the same treatment plan good for everyone? No way.
For me, when I am suffering, I feel like a hedge of thorns has surrounded me. In almost the same way the thorns rose around Sleeping Beauty's castle when she fell into her sleep, I feel them begin to grow and rise. Sometimes I catch them quickly, and they don't cover me. How do I do that? I have to be on alert at all times. I have to watch what I eat, how much alcohol I'm consuming, the music I'm listening to, the sleep I'm getting or not getting. And then I have to reach out to someone to hold me accountable for repenting. I call my sponsor, my therapist, and a tiny handful of trusted friends, all people who will not judge me but help talk me through the steps of recovery. And I have to take my medication consistently. That means never missing a dose. When I catch it, I like to imagine myself wielding a sharp sword, swiping my way through the thorns.
When I don't catch it, I wake up and feel the thorns covering me; smothering me. I may lay under them for days before calling for help. But when I do, my people swarm around me with swords of truth. They bring the Word of God swiftly and unapologetically to help me battle the lies of Satan; the lies he whispers in my ears when I'm trapped.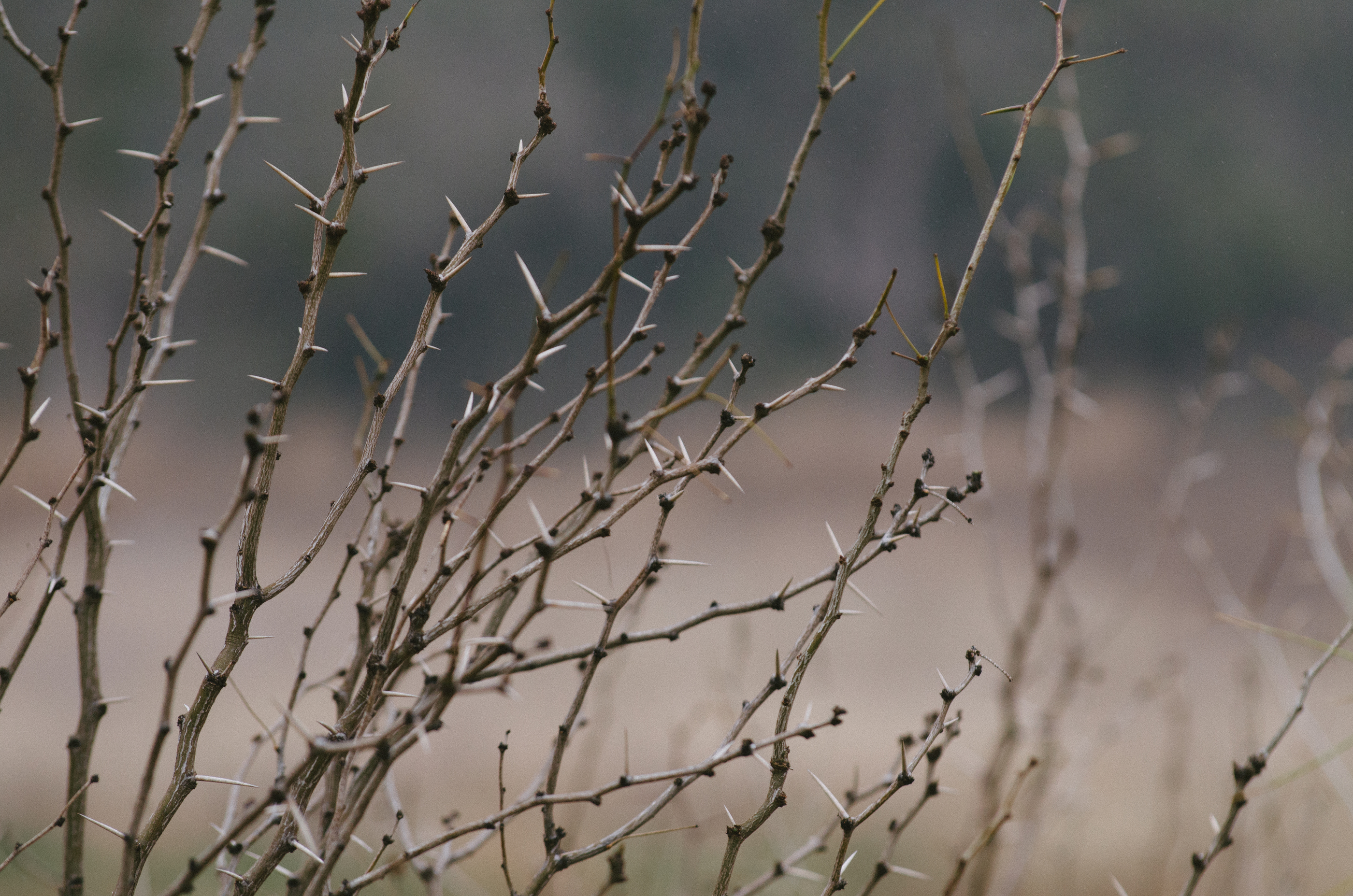 God loves us so much that He sent His one and only Son. He promises that whoever believes in Him will not perish (John 3:16). I believe. I believe that depression is genuine and I believe that I serve a God is so much greater. He is the King who comes in the end with the gleaming sword and saves the whole world. He's the one who will slice away the thorns and take me home to live with Him where there will be no more tears, no more shame, and no more disease. I long for that day so much. But until we get there, I will keep beating this drum and putting my words out there in hopes of helping one person. I will keep typing, talking, and shouting for people to take notice and get help.